You can't say that CircuitMess is not trying to create some hype for their product. They created the CircuitMess Batmobile, which has an international identity already. The AI-powered car will teach children about engineering and autonomous driving, showing them how to program their own cars as well as to install mechanical parts. The CircuitMess Batmobile is a STEM kit toy that takes the mess out of electronics.
STEM Kit
Gear up for some STEM fun with the Batmobile kit! The toy comes in pieces and with a step-by-step assembly manual. Make sure you follow the instructions carefully. This will help ensure a perfect installation. Once you set that up, you'll be able to remotely control the Batmobile. You can use that knowledge to learn how engineering and autonomous driving work.
Kickstarter Campaign
This project is available for pre-order on Kickstarter and has so far raised $3,64,000, till the time we are writing this article. CircuitMess has had three successful Kickstarter campaigns to date.
The DIY Batmobile For Anyone
The CircuitMess Batmobile is a smart car with a robotic exterior, which comes with an accompanying intelligent controller that controls the car. While you can use the controller to drive the Batmobile, the car can be set up for self-driving. Developing your own computer vision algorithm for the Batmobile is pretty straightforward.
Designed For
The kit is designed for kids aged 7 and up. Even grown-ups who want to build a cool Batman toy can use it if they want. The sensor and customization options let you customize your Batman car the way you want. So anyone can be a 7 year old and have no previous knowledge of how the DIY car works.
CircuitMess says the kit comes with tasks that include "learning how autonomous vehicles work, how computers track objects, how to code a microcomputer, and develop your own computer vision algorithm."
Pre-Order CircuitMess Batmobile
You can now pre-order The CircuitMess Batmobile from Kickstarter for $99. You can add accessories like temperature & humidity sensors, gyroscope & accelerometer modules, flashlight modules, entender, air pressure sensors, and RGB lights.
CircuitMess prices their kits from $5399 for upcoming packs until they reach the highest-priced package at 60 Batmobile packs and a delivery date of July 2022. You can check out all of the packs that are available on the company's Kickstarter campaign page.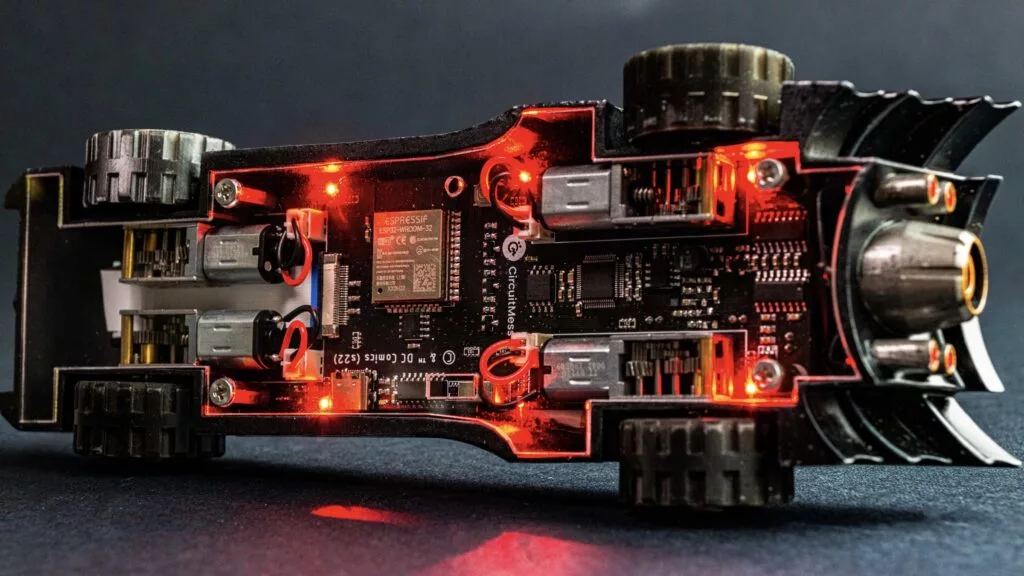 Conclusion
It is a great option if you want to learn the basics of Autonomous Driving & coding without spending any extra money. Kids love the CircuitMess Batmobile – it's a cool toy that not only entertains them but helps them learn. It seems like coding has been around forever and it's only becoming more and more necessary. Plus, with Artificial Intelligence and Machine Learning capabilities now available to pretty much everything we do, this could be a fun way to learn a new skill.
Latest posts by Bilal Akbar
(see all)
Spread the love