AOMEI is offering a fantastic Christmas giveaway! This exclusive promotion allows you to get all their 23 softwares for free, worth a total of $1300. AOMEI is a leading provider of innovative and reliable PC utility software, so this is the perfect opportunity to get their full suite of software for absolutely free and make the most of your Christmas. With the AOMEI Christmas giveaway, you can get their most popular software like AOMEI Partition Assistant Pro and AOMEI Backupper Pro, as well as all of their latest products. Enjoy the season with the best Christmas giveaway ever from AOMEI.
What AOMEI is Offering as Christmas Gift?
AOMEI is offering a special Christmas gift this season. All of their software's pro versions are available for absolutely free. This is a great opportunity to try the latest softwares from AOMEI and take advantage of the many features they offer. With this offer, you can get access to the popular Partition Assistant, Backupper, Migrator and other tools to help you manage your data and optimize your computer.
All of the software and their introduction about what they actually do is mentioned below.
Data & Backup Recovery
1. AOMEI Backupper Pro
AOMEI Backupper Pro is one of the best Windows backup, clone and synchronization software. It is the perfect choice for people who wants to protect their computer's data with its powerful features and reliable performance. This software is designed to help users create backups of their computers, partitions, and drives easily.
AOMEI Backupper Pro makes backing up your data simple and easy. It offers a range of features including video backup, image backup, and scheduled backups. It also allows users to back up to external drives, network drives, and cloud storage. With this tool, users can quickly and easily restore their data in the event of an unexpected system or hard disk failure.
2. AOMEI FoneTool Pro
AOMEI FoneTool Pro is the perfect tool for anyone looking to quickly backup and restore their iOS data. This powerful tool allows users to easily transfer all their data between iOS devices, and to selectively backup, transfer and restore specific data. It is fast, efficient and easy to use tool. The user interface is making it easy to find the data you need and to start backing it up. You can also use it to preview and restore data, ensuring that everything you need is safely backed up.
3. AOMEI MyRecover Pro
AOMEI MyRecover Pro is a highly reliable and successful data recovery tool for Windows. It offers an easy and reliable way to recover lost or deleted data in a few simple steps. This powerful tool can help you in various data loss scenarios and promises a high speed and great recovery rate. It is designed to quickly and efficiently recover lost data in a simple and secure manner. It provides comprehensive features to help you in all kinds of data loss situations. It can easily identify and recover all types of files, including photos, documents, music, videos and more.
Assistant Tools
1. AOMEI Partition Assistant Pro
AOMEI Partition Assistant Pro is the ultimate disk partition management tool for Windows. It provides a user-friendly interface, advanced features, and powerful tools to maximize disk space use and keep your data safe. With this amazing tool, you can easily create, resize, move, merge, and split partitions without data loss, and keep up with the latest technologies like dynamic disk, GPT/UEFI, and SSD migration. It also supports a wide range of Windows versions including Windows 11, Windows 10, Windows 8.1/8, Windows 7, Vista, and XP (32/64-bit). This tool is the perfect choice for anyone looking for an easy, reliable, and powerful partition manager.
2. AnyViewer Pro
AOMEI AnyViewer Pro is a powerful and reliable remote desktop software for Windows that provides users with safe and secure access to remote computers. With its advanced features, users can quickly and easily transfer files between PCs located in different places, provide remote support to customers, and even play PC games from anywhere. This tool is perfect for businesses, IT professionals, and gamers who need to access remote computers or share resources. With AOMEI AnyViewer Pro, users can stay connected to their remote computers and collaborate with colleagues, friends, or family from anywhere, anytime.
3. Sticky Password Premium
Sticky Password Premium is an excellent tool for anyone looking to stay secure online. This is a highly effective password manager and form-filler that enables you to securely store and quickly access your passwords, logins, and other personal information while also automating the process of filling out online forms.
You can easily generate super strong passwords at any time and it will automatically fill in forms and log you in without you having to remember your all passwords with this powerful tool. This makes life so much easier and more secure while keeping you safe from cyber threats. Sticky Password Premium is an ideal tool for anyone who wants to keep their online accounts secure and make sure that their personal information is safe.
PC Cleaner and Optimizer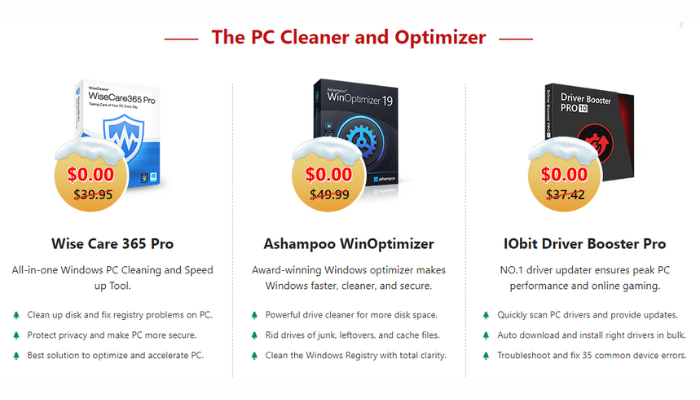 1. Wise Care 365 Pro
Wise Care 365 Pro is the ideal tool to help you keep your PC running smoothly and efficiently. By removing junk files, fixing registry issues, cleaning up your hard disk and protecting your privacy, Wise Care 365 Pro offers the best solution to improve and speed up your PC. Whether you are a novice or an experienced user, this tool has everything you need for optimal PC maintenance.
2. Ashampoo WinOptimizer
Ashampoo WinOptimizer is an award-winning Windows optimizer that makes your computer faster, cleaner, and more secure. With a powerful drive cleaner, you can free up disk space quickly and easily by deleting unnecessary junk, leftover, and cache files. The Windows Registry can be cleaned with total clarity and accuracy, making sure no problems are left behind. This tool is perfect for anyone who wants to optimize their PC for maximum performance. It can help you reclaim disk space, maintain system stability, and keep your data safe from malicious programs.
3. IObit Driver Booster Pro
IObit Driver Booster Pro is a software that helps you keep your computer running smoothly and efficiently. It does this by scanning your computer's drivers and updating them if they are out of date. It can also fix common device errors. This is especially useful for gamers, as it can help improve the performance of their games. It is very easy to use, as it will automatically download and install the right drivers for you. If you want to keep your computer running well and avoid problems, IObit Driver Booster Pro is a great tool to use.
Office Helper and App Uninstaller
1. Text Edit Plus
Text Edit Plus is a powerful plain text editor that provides users with helpful features to create and edit documents. It has several tabs and syntax highlighter to help you identify errors and code easier. This tool also has a feature that computes word frequencies to help you quantify repetitions in your document. Text Edit Plus is a great tool for users who need to create and modify documents quickly and accurately. It can help you to easily identify and fix errors in your text and make sure that your documents are up to standard. It's an ideal tool for both experienced and novice users alike.
2. SwifDoo PDF Pro
SwifDoo PDF Pro is the ultimate tool for all your PDF needs. This tool allows you to easily edit PDF files and convert them into editable Microsoft Office documents, just like you would with a Microsoft Word document. Plus, you can compress PDFs without sacrificing the quality of the document. This powerful tool is a must-have for those looking to quickly and easily edit and modify their PDF files.
3. DoYourData Uninstaller Pro
DoYourData Uninstaller Pro is a powerful and simple uninstaller software that helps you to quickly and completely remove any useless programs, apps and plug-ins from your computer. It thoroughly cleans up the related files and leftovers left behind by the uninstalled programs. With this software, you can also uninstall multiple programs at once with just a few clicks. It is a great tool to help you completely uninstall any installed programs from your system, freeing up your computer space and optimizing its performance.
Video Editor and Converter
1. VideoProc Converter
VideoProc Converter is an advanced and one of the best video processing tool/software that helps you convert and compress your videos with GPU acceleration. It supports more than 420 formats, making it easier to play and share your videos across different devices. With this video converter software/tool, you can easily edit, cut, merge, rotate, add effects, subtitles and more to your videos. It also helps you compress large videos without losing quality. This powerful video processing tool can help you quickly convert your videos to the format you need and make videos more attractive and shareable.
2. WinX HD Video Converter
WinX HD Video Converter is an excellent tool for editing and converting 4K/HD videos. It is GPU-accelerated, which means it can work at a fast speed and provide high-quality output. With this tool, you can transcode any video format to almost any other format, making it easy to share your videos with anyone. It has an intuitive interface, so even users with no prior experience can easily edit their videos. It also has an advanced compression system that can minimize the size of your 4K/HD videos while maintaining the quality. With WinX HD Video Converter, you can quickly and easily edit and convert your videos with excellent results.
3. WonderFox Video Watermark
WonderFox Video Watermark is an excellent tool for adding digital watermarks to videos with incredible speed and quality. This tool offers the ability to add watermarks to your videos in batches, as well as convert all key videos to various formats. It also gives you the ability to create a variety of visually appealing visuals to further enhance your videos.
With WonderFox Video Watermark, you can easily protect your video copyright, as it can add watermarks to videos quickly and without losing any quality. Additionally, it can help you to make your videos look more professional and attractive. All in all, WonderFox Video Watermark is a great tool for anyone looking to add digital watermarks to their videos while maintaining high quality and speed.
Video Recorder and Downloader
1. RecMaster Pro
RecMaster Pro is an advanced and easy-to-use HD/4K screen recorder. It offers 7 recording modes and supports 4K & HD video recordings. You can conveniently schedule recordings, edit and customize your clips with features such as cutting and adding subtitles. It is the perfect tool for capturing gameplays, e-meetings and live streams, as it allows you to record high-quality videos with a few simple clicks. With RecMaster Pro, you can effortlessly record screen with professional results.
2. iTop Screen Recorder Pro
iTop Screen Recorder Pro is the ultimate screen recording tool for PC users. With a wide range of features, it offers users the ability to capture their screen in high-definition quality without any lagging or stuttering. It is capable of recording 4K/1080p HD videos with no lagging and audio from both your PC and webcam. With this tool, you can easily capture your screen for gameplays, e-meetings, live streams, and more. It also allows you to save and share your recordings easily. With iTop Screen Recorder Pro, you can record videos with ease and clarity. It is the perfect tool for capturing and sharing your screen experiences with the world.
3. Fast Video Downloader
Fast Video Downloader is a convenient tool that allows users to download videos from a variety of websites, including YouTube, quickly and efficiently. It offers high-resolution video options from various sites, enabling users to choose the best quality for their needs. In addition, the tool allows for the downloading of multiple videos at once, saving time and effort. Whether for personal or non-commercial use, Fast Video Downloader makes it easy to obtain the videos needed in a short amount of time.
However, it is important to note that downloading videos from websites without permission from the copyright holder may violate the website's terms of service and may also be illegal in some jurisdictions. It is always best to check the terms of service of a website before attempting to download any videos and to obtain necessary permissions and licenses if using the video for any purpose other than personal use.
Complete Media Toolkit
1. Audials One 2023
Audials One 2023 is a powerful and user-friendly music and audiobook software. With its help, you can find music from any legal website, download and export playlists with ease, and save any track in the highest quality (up to 320 kBit/s). Its intuitive interface makes it very easy to use, allowing you to quickly find and download your favorite music and audiobooks. Thanks to its advanced features, you can easily manage your library and create custom playlists. Audials One 2023 is the perfect tool for anyone looking for a convenient and reliable way to download and save music and audiobooks.
2. Ashampoo Photo Optimizer
Ashampoo Photo Optimizer is a professional photo editing and enhancing software that allows users to adjust various image settings to improve the overall quality of their photos. With this tool, you can easily fix issues with lack of contrast and exposure, straighten horizons, watermark your images, and apply a variety of effects to give your photos a unique look.
Additionally, you can add individual notes to your images or give them a classic look using the software. Overall, Ashampoo Photo Optimizer is a great tool for anyone looking to enhance their photos and take their editing skills to the next level. Whether you're a professional photographer or just looking to improve your personal photos, this software can help you achieve your desired results.
3. Franzis Image Editing Suite
Franzis Image Editing Suite is a simple, fast, and creative image processing helper that allows users to quickly and easily edit their photos. One of its standout features is the ability to adjust the sharpness of images in 3 to 1000 levels, allowing users to achieve the exact level of clarity they desire. Additionally, the software is effective at eliminating annoying image noise and removing any obstructions that may be blocking the target in the photo.
These features make Franzis Image Editing Suite a great tool for anyone looking to quickly and easily edit their photos in bulk. Whether you're a professional photographer or just looking to improve your personal photos, this software can help you achieve your desired results with ease.
More Free Gifts
1. WinfrGUI
WinfrGUI is a powerful alternative to Windows File Recovery that allows users to easily and efficiently recover lost or deleted files in Windows 10 and 11. With just a few clicks, you can recover a wide variety of file types, including media, office, zip files, and more. The software is completely free to use and supports a range of file systems, including NTFS, FAT, exFAT, and ReFS.
If you've lost an important file due to accidental deletion or a system crash, WinfrGUI can help you recover it. This tool is known for its reliability and ease of use, making it a great option for those seeking a way to recover deleted files on a Windows system. Whether you're a beginner or an experienced user, WinfrGUI can help you get your lost data back quickly and easily.
2. CBackup
CBackup is an advanced cloud backup service that makes it easy for users to backup and sync their data across multiple cloud services. It provides an easy and secure way to store and manage all your data with one simple click. With CBackup, users can combine all their idle cloud space to create unlimited backup storage, and they can restore their data from any cloud drive with one single click. CBackup is a great tool to help users protect their data and store it safely. It provides a secure and easy way to manage and backup all your data, so you can rest assured that your important files and documents are safe in the cloud.
Conclusion
In conclusion, the offer of free software worth $1300 from AOMEI is an incredible Christmas gift for anyone in need of powerful and reliable tools for their computer. From data backup and recovery to partition management and system optimization, these tools cover a wide range of essential functions and can save users time, money, and stress.
Don't miss out on this amazing opportunity to get your hands on some of the best software around, absolutely free. Whether you're looking to improve your own computer's performance or are searching for the perfect gift for a tech-savvy loved one, this offer is sure to please. So why wait? Head to AOMEI's website now and get your free software before this incredible deal ends!
Latest posts by Bilal Akbar
(see all)
Spread the love